Enroll Your Child in the Most Exciting Summer Camp in Odenton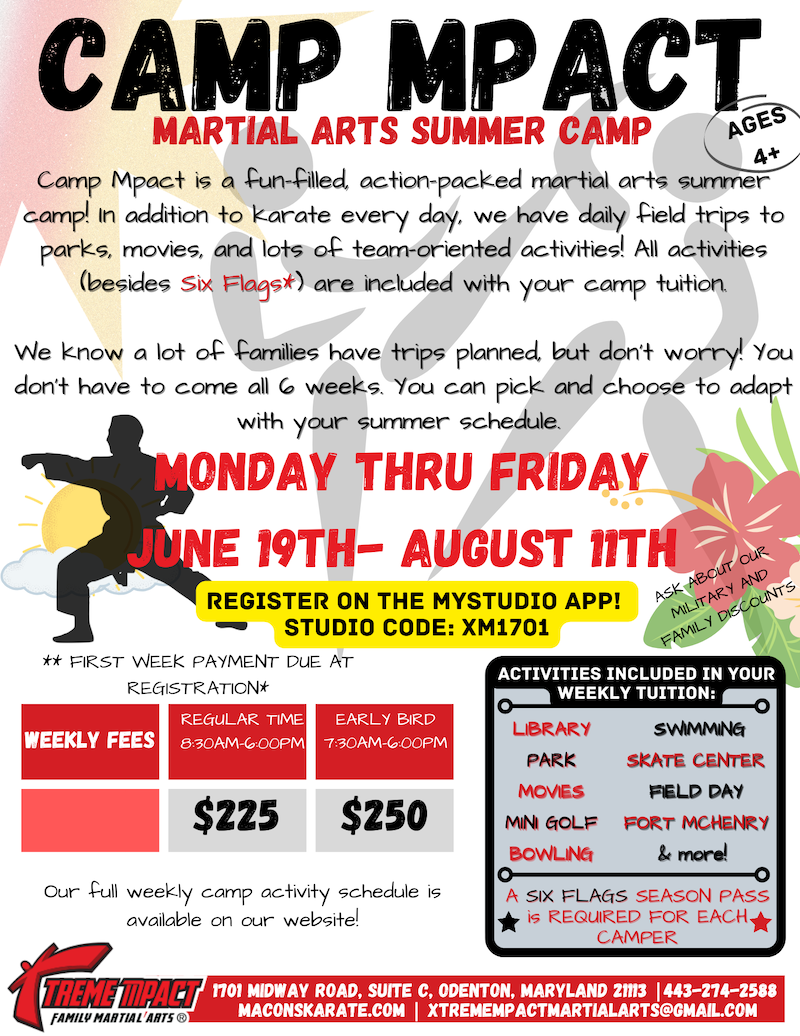 We are PUMPED to kick it with y'all this summer!

Registration for Camp Mpact 2023 is officially LIVE on our MyStudio app! Register for a week, a couple, or all six.
Summer Camps Begin June 19th - Sign Up Before Spots Fill Up!
Regular camp hours are 8:30 am-6:00 pm. A 7:30 am drop-off time is available for an additional $40/wk.
All campers are encouraged to have some form of prepaid debit card, specifically for their child, for us to keep on file and use for our outings if needed. For example, if you want to give your child money for the gift shop on a field trip. A parent favorite is the Greenlight card. You can reload them right on your smartphone as needed and your student will always have what they need to get the most out of their camp experience!
We also frequent Odenton Library, so please make sure your camper has an active library card for there.
All campers are required to have a Six Flags season pass to attend camp on Six Flags days. There will be no one available at the studio on these days to watch students not attending.
Field Trips:
Parks
Library
Movies
Bowling
Roller skating
Mini Golf
Ft McHenry

Six Flags
& more!
Weeks & Schedules:
*** Events are subject to change as necessary! ***
Prices:
$200/week if registered by May 1st ($240 for Early Bird)
$225/week if registered through May 31st ($265 for Early Bird)
$250/week if registered June 1st or after ($290 for Early Bird)

All campers must also purchase one of the following packages with their camp registration.
Xtreme Mpact Member Package 1: $15 (1 Camp Mpact t-shirt)
Xtreme Mpact Member Package 2: $30 (2 Camp Mpact t-shirts)
New Member Package 1: $35 (1 t-shirt and a karate uniform)
New Member Package 2: $50 (2 t-shirts and a karate uniform)
Deposit required at registration: First Week tuition
Ask about our Military and Family discounts
Sign Up Today!
Just download the MyStudio app on Google Play or the iTunes App Store (Studio code is XM1701) to create an account to enjoy this amazingly Xtreme Summer Camp!
Benefits of Summer Camp
Concentration
Perseverance
Courage
Intensity
Speed
Agility
Technique
Flex-Ability