After-School Martial Arts Program
We are halfway through Summer Camp and just over a month out from our FIRST DAY OF SCHOOL!
Our After School Program here at Xtreme Mpact Martial Arts is a wonderful choice for busy parents! We provide dependable, safe transportation each afternoon from your child's school to our facility, and ensure that homework is started.
After changing into their karate uniform, your child will also receive a full karate class prior to dismissal at 6 PM. Our program runs from the first day of the school year to the last, so there is no need to worry about a back-to-school transition!
Our After-School program is geared to help your children succeed. Homework is first priority as they arrive from school.
We understand that a child's education is their primary job. After homework, it's on to their karate class, where they can refresh their minds and bodies.
To promote a child's overall well-being and growth, we also work with the kids on building their character by focusing on a trait each week like integrity, responsibility, and perseverance. We are committed to teaching our children how to become successful adults.
***We officially have our registration portal up on our

MyStudio application

under the Memberships tab!***
We have

Full Time and Part Time Options

-
Full Time
Status is 3-5 Days/Week -

$115/week
Part Time
Status is 2 Days/Week -

$80/week
You can pay weekly or monthly for your plan!
To register your student:
Please access your MyStudio app on your smartphone!
*If you don't already have it, please download and use studio code XM1701*
Click the 3 lines in the bottom right hand corner of the screen once you create your profile.
Click '

After-School Martial Arts Program

'
If you are a NEW MEMBER to our studio, please use one of the NEW MEMBER options for your pricing plan. There will be a $50 registration fee due at sign-up to cover the cost of their karate uniform.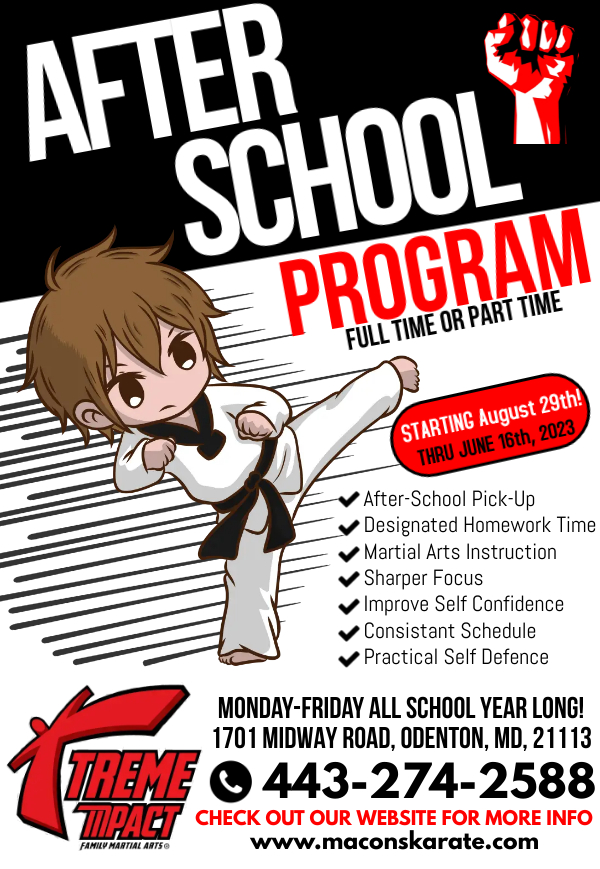 We will service the following schools this year:
Frank Hebron Harman Elementary